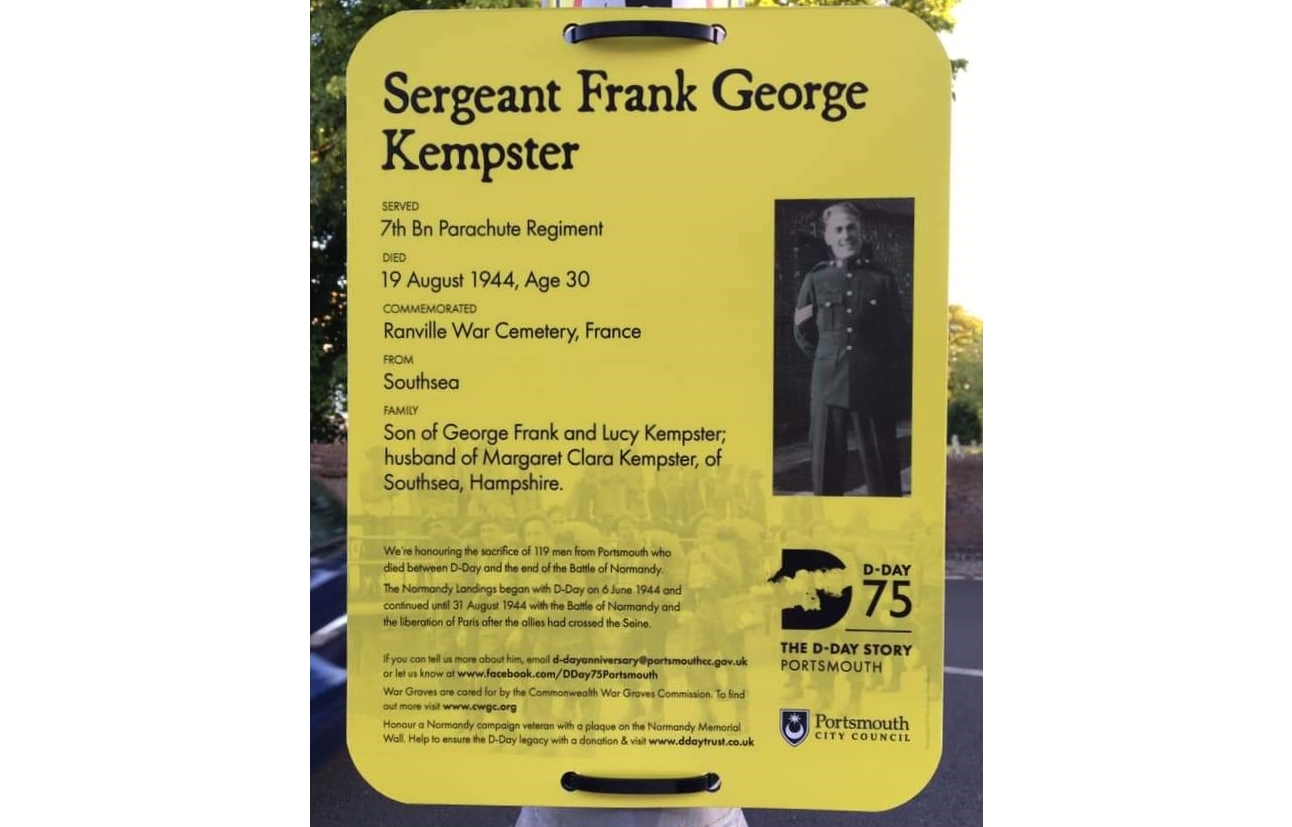 Portsmouth City Council has unveiled almost 120 individual panels to honour the sacrifice of men with connections to Portsmouth who died between D-Day and the end of the Battle of Normandy (31 August 1944) – and they have already been featured in the Times, Sun, Mirror, Daily Mail and Metro as well as TV and radio.
One of the brave men honoured in this way is Frank Kempster who is commemorated on the Buriton war memorial.
Frank and his wife Margaret had been married in Buriton church and, at the outset of the war, they were living with their children, Patricia and David, in the house now known as Corner Cottage on Petersfield Road, opposite the Village Inn. But before very long he was taking part in one of the most crucial raids of the Second World War: parachuting into enemy-occupied France in the early hours of D-Day to capture vital bridges and prevent German reinforcements attacking the eastern flanks of the landing beaches.
The capture of Pegasus Bridge was a vital part of the entire Operation Overlord and Sergeant Kempster was involved in some very dangerous and brave activities to ensure that his mission was successful. Sadly he was killed about ten weeks later but his dedication and courage had helped the Allied forces establish themselves in Normandy and hasten the end of the war in Europe.
Information about Buriton's involvement in D-Day, including a number of first-hand accounts, describing facets of the massive operation 'through local eyes' can be found in the Heritage Bank publication: 'Buriton & D-Day: through local eyes'
After the war Frank's widow is believed to have lived in Southsea for a period of time and so the City Council is honouring Frank by placing his panel in a strategic location in Highland Road, a main road with shops and plenty of passers-by.
Details of the locations of all the individual panels can be found here
Portsmouth – from where much of the landing force sailed in 1944 – is to be the focal point of the UK commemorations of the 75th anniversary of D-Day, and will host the nation's commemorative event on 5 June: due to be attended by US President Donald Trump and the Queen.
The national event leads on to four more days of commemorations in the city, reflecting the area's unique role in the operation that changed the course of the war. Find out more here.