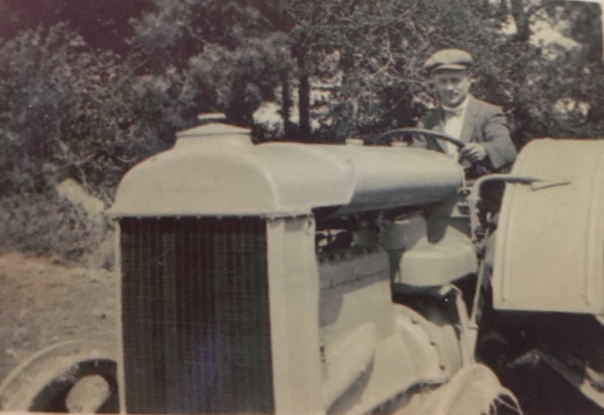 The Buriton Heritage Bank has recently been contacted by descendants of the Bridger family who farmed in the parish in the 1920s and 1930s.
Sarah Ferris explains that her grandfather, Owen Ralph Bridger, grew up at Old Ditcham and farmed the land with his brother, Herbert, after their father [Ralph Martin Bridger] died in 1933, aged about 57 – although their mother, Edith (nee Older; born in 1873), was still in charge of the farm, running it in the name of E. Bridger and Sons.
Within a few years Herbert got married and Edith decided to retire, transferring the tenancy and selling the livestock etc to a Mr Moore. Edith went to live in Midhurst whilst Owen and Herbert took a Farm at Kirdford near Petworth and went into partnership together.
Soon after taking over Old Ditcham Farm, Mr Moore became dissatisfied with the condition of the cattle and sought compensation from Edith. When she refused to pay he instigated a court case claiming that the Bridgers knowingly sold cattle which carried contagious abortion. Although the Bridgers denied this they were found guilty in the Chancery Division in London, left liable with damages to pay and became bankrupt in 1940. A report of the court case in the West Sussex Gazette in 1939 is headed 'Alleged Fraudulent Misrepresentation of a Petersfield Farm'.
After this time, Owen moved to Wiltshire. He married Ruby Margaret Little in Devizes in 1938 in Devizes, having met her whilst she was working as a district nurse in Kirdford, and Sarah's father, Martin Bridger, was born in Urchfont (near Devizes) where Owen was farming at the time. They later settled in Biddestone near Chippenham, Wiltshire, where Owen worked for many years at Mountjoy Farm and had three sons (Martin, Gordon and Geoffrey) and two daughters (Marian & Linda). Owen died in Chippenham in 1991, two days after his 85th birthday.
Although the circumstances brought a sad end to their time at Ditcham, Sarah explains that had this not happened her family would not have mapped out in the way it has now.
The family has recently been delving into their family history and began to find out about their connections with Ditcham. Do you know anything more about this family or about life at Ditcham around this time?