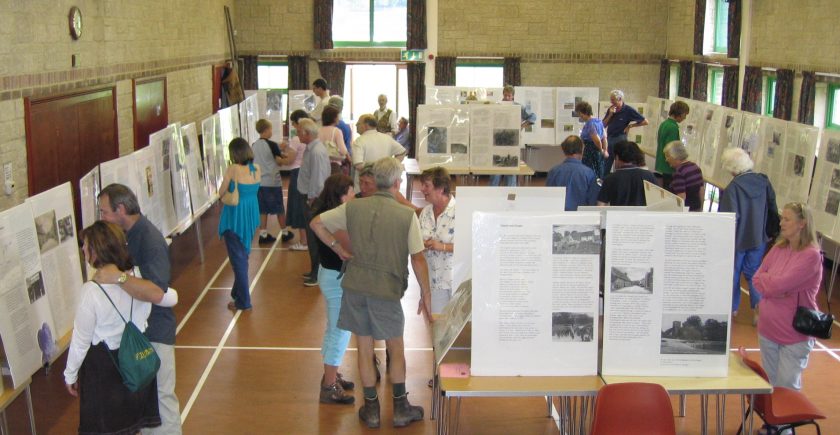 Our 2005 Heritage Bank Exhibition (September 10th), was another resounding success with hundreds of visitors, some travelling thousands of miles to visit their Hampshire roots and to meet up with long-lost friends and relatives.
One visitor, now based in Japan, arranged his trip back to the UK so as to be able to visit the event – and he brought with him more information about the local limeworks and how they were used for dangerous bomb disposal activities during the Second World War.
But perhaps the star of the show was 89 year old Hemsley Budd who drove to Buriton from his home in Teignmouth, Devon to visit the village where he had grown up as a boy and where he had worked in the chalk pits and limeworks.
"I was one of the pony boys" explained Mr Budd. "I helped to look after the horses before they were replaced with locomotives. At the end of a hard days work pulling wagons full of chalk from the pit, I would take them for a wash in the village pond. We would then race back through the village High Street, riding the horses bare-back, much to the delight of the local children."
By coincidence, another of the visitors to the Exhibition, Peter Albuery of Sumner Road , Buriton, brought a picture of one of the horses at work in the chalk pits. "That could well be my horse" said Mr Budd. "My horse, Colonel, was a grey."
The exhibition yielded another 60-70 old photographs for the Heritage Bank archives – bringing the total collected over the last few years to over1,500. We feel that this is a real achievement for such a small community in such a short space of time.
We even had nine photographs emailed through to us from Canada on the eve of the exhibition showing scenes around Nursted Farm during the First World War. The grandson and great grandson of one of those featured in these photographs were at the exhibition and were able to see photos of their ancestors that they'd never seen before.