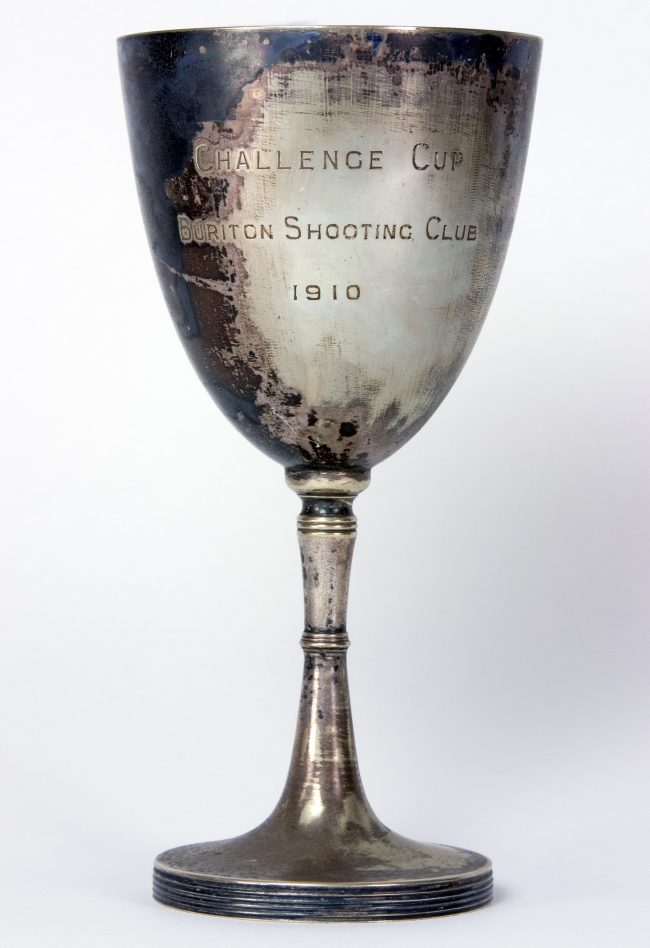 Michael Reeves of Bones Lane has recently lent the Heritage Bank a 100 year old trophy: the 'Challenge Cup' which belonged to the Buriton Shooting Club and which was first awarded in 1910.
Does anybody have any information about the Buriton Shooting Club – or about any of its members or activities?
We know that Buriton's original Village Hall was opened for the first time in October 1909 – on the same site as today's hall.
The hall became a social hub for the village for the rest of the century and hosted many activities – including a rifle range.
George 'Sonner' Legg of Glebe Road recalls that when he was a young man the Shooting Club used to meet every week.
And live ammunition was used – real bullets!
A rifle range was set up each week and the men would lie down on mattresses and aim their rifle at a target down the far end of the hall.
The target was mounted onto a number of railway sleepers which absorbed the bullets.
As well as regular 'club nights' there were some special competitions each year for cups and other prizes.
Sonner won the cup at least once, as did his father (George Legg senior) and his uncle Jack. "Jack was an excellent shot" explains Sonner. "They all were as, for many of them, game-keeping was their job."
If anybody has any more information about the Buriton Shooting Club – or about any other activities in the Village Hall in years gone by – please let us know.