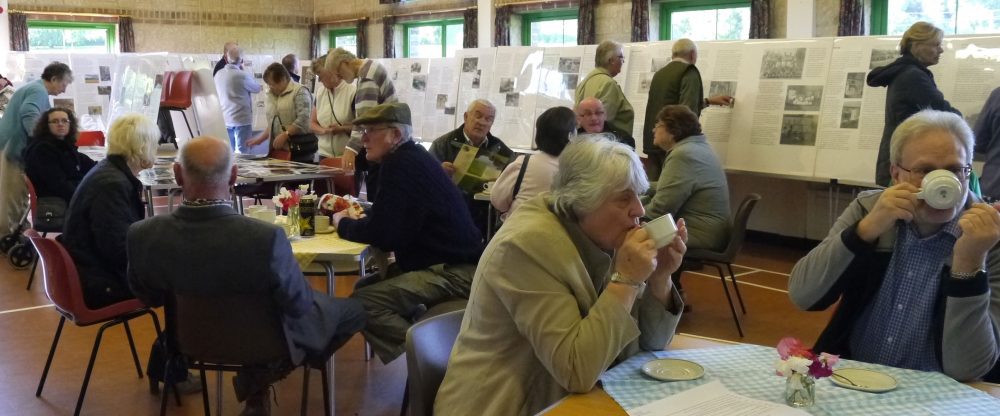 Families from nine different counties in England and some from Wales flocked to see our annual exhibition on 29th September 2012 – mingling with residents and parishioners.
Scores of visitors attended the exhibition in the Village hall – more than in many previous years – and brought more information for our Heritage Bank records.
We've been able to add about 100 new images into our archives.
As well as many old pictures of hop-picking and farming in the parish, an amusing piece of correspondence from July 1962 was brought to the exhibition by Michael Attrill.
Written on formal British Transport Commission (British Railways) notepaper and addressed to the signalman at the Buriton Signalbox, the letter gives the workman a telling off because "on a recent visit by an Inspector you were observed to be attending to a small pig in the signalbox"!
The letter goes on to ask for an assurance from the signalman that this would never happen again as, it is revealed, this wasn't the first time this "irregularity" had been observed.
It's great to see these extra insights into life in the community over 50 years ago – although we can't recall ever receiving anything quite like this before!
We have now collected well over 2,700 old photographs of local people and places which we feel is quite an achievement for such a small community.
This year there were three different people all looking to find out more about Dean Barn, Buriton, where their ancestors had been shepherds working for the Bonham Carter family.
We are really pleased that we have been able to bring so much information together – but we are always looking for more.
As much as possible was recorded in the nine publications which have been produced, but we are always finding out more as people bring old photographs and memories to our events.
Anyone interested in obtaining any of our publications – or anybody with any information about the local history of the parish – should contact Doug Jones on 01730 231326 or send an email to heritage@buriton.org.uk