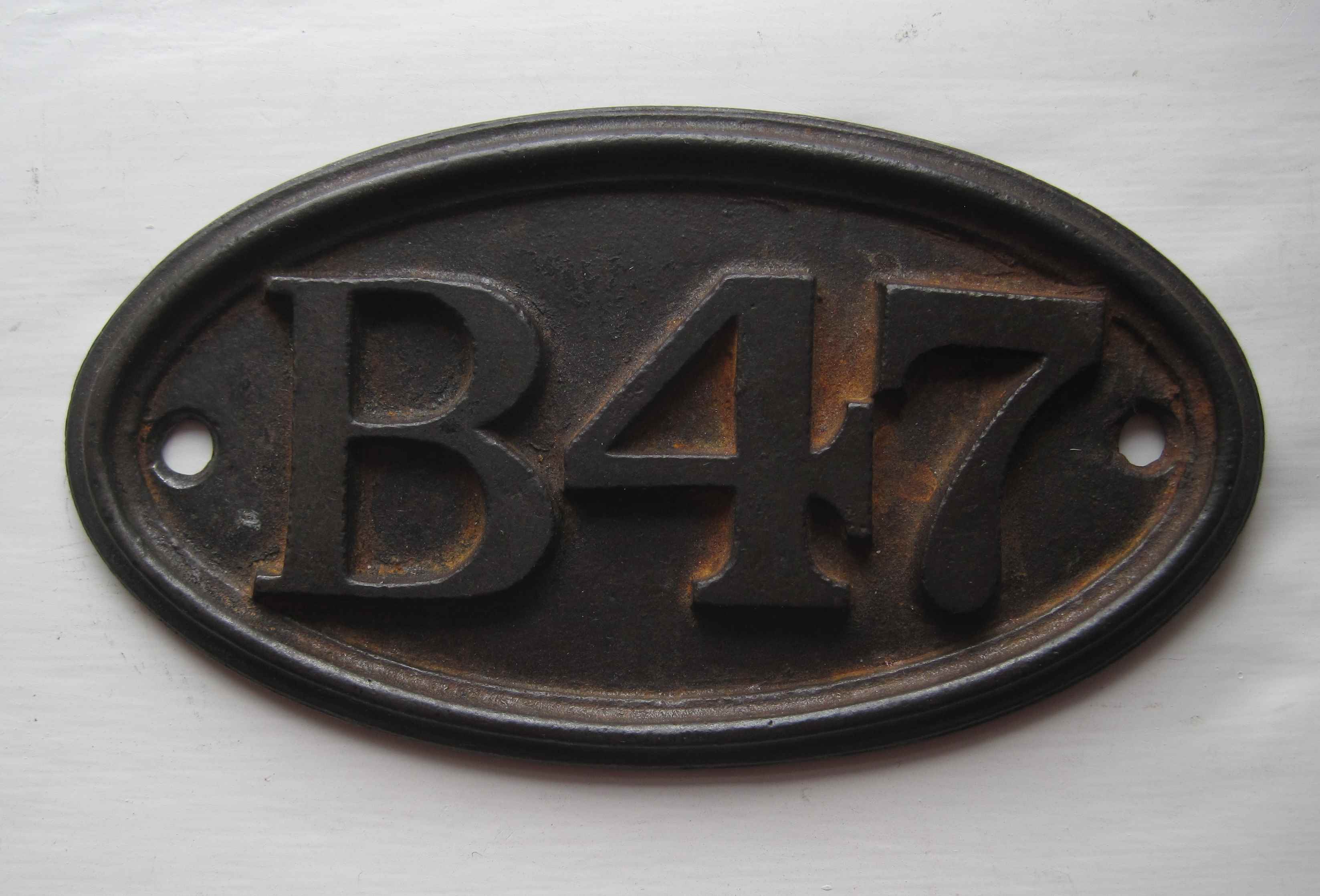 Adam Askew has kindly donated this house number plaque, a unique bit of Buriton's history, to the Heritage Bank.
Until 1958 many of the houses in Buriton village were owned by the Bonham Carter family, as part of the Buriton Manor Estate. They had given most of their houses a unique number (irrespective of which street or lane it was in) ranging from B1 in North Lane to B63 in Kiln Lane.
Parts of the Manor Estate were sold off in 1927 and the Sale Catalogue, along with equivalent ones for sales in 1936 and 1958, provide some details about many of the houses.
In 1927 B47, in South Lane, is described as a detached stone-built and thatched cottage which was let to Mr H Hill at a rental of 10 shillings per month (with the landlord paying the rates).
The cottage was next door to B45 and B46 which were described as being 'erected of brick and stone and thatched' which were, by 1936, 'let to Messrs Fisher and Barrow at a total weekly rental of five shillings and sixpence (landlord paying rates)'. By this time all three cottages had mains water.
The sale documents suggest that numbers B1, B4, B5, B6, B7, B8, B10, B11, B13 and B14 were in North Lane with others being distributed as follows:
Bones Lane: B15, B16, B17, B18, B20, B21, B22, B23, B24, B25, B26, B27, B41, B42, B52, B53, B54, B55, B56 and B57
High Street: B35, B36, B37, B38, B39, B40 [all in the Poor House]
Kiln Lane: B32 [Glebe Farm House], B33, B34 ['two cottages near the limeworks'], B60, B61, B62, B63 [Sunnybank Cottages]
Petersfield Road: B28, B30, B31, B50 and B51 [the latter two being Black Hill Cottages]
Some of these numbers (without their B prefix) are still in use to this day – which explains some of the strange numbering around the village which can make life difficult for deliverymen!