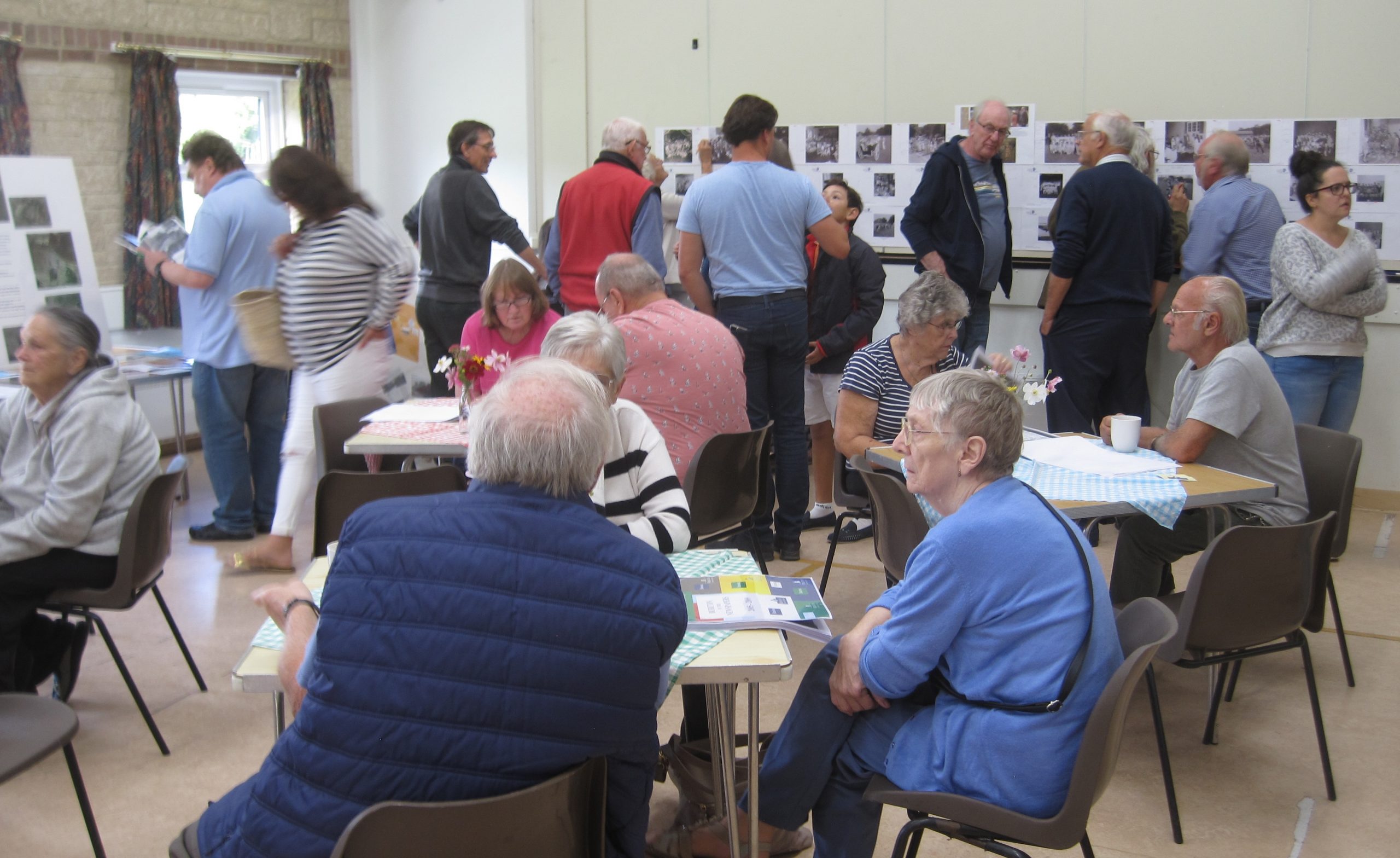 Over 100 people squeezed into the village hall for a trip down memory lane
In addition to scores of villagers, the annual local history event attracted visitors from as far away as Exeter and Nottingham as well as people from Surrey, Sussex, Portsmouth, Liss and Petersfield.
As usual, the exhibition provided opportunities for memories to be shared and for new information to be discovered about families and homes in the parish over many decades.
Amongst the main attractions were dozens of old photographs of the local area taken by Buriton's own Don Eades. For over 25 years Don took photos for the Petersfield Post and, thanks to a special loan arrangement with the Petersfield Museum, many were displayed on a huge 'photo-wall'.
Some families who had spent many years living in the village, but had moved away 30-40 years ago, came to the exhibition for the first time: and met lots of friends from their era.  Working together, and having great fun, they were able to identify and write many names onto the old photographs.
Other information collected included a fascinating insight into village life from one family's research drawing upon the 1881 census: head of the household, William Cook, was recorded as a thatcher whilst three of his sons were pursuing other local professions: a carter / agricultural labourer, a milkman and a shepherd boy. There were three more children (two more boys and a girl) recorded as scholars, begging the question as to what jobs they subsequently did …
Copies of all the local history books (see here) were on sale alongside wide-ranging informative displays featuring: hop growing and picking; the Buriton and Butser chalk quarries and lime works; the village school; and changes in farming the countryside around the village.
More details about the Buriton Heritage Bank local history project are available elsewhere on this website and anybody who might have any information or be able to help with research in any way is encouraged to contact Doug Jones on 01730 231326 or via doug.pam@btinternet.com